The development of manufacturing technologies and evolution of fabrication process allow PCB manufacturers to print custom designed PCBs within days. While our regular turnaround time for printed circuit boards is fast and above standard for the industry, we understand that there are times when just fast isn't fast enough. By offering PCB expedited service, we ensure you meet all deadlines (even when your schedule suddenly tightens up) and get quick turn PCBs with time to spare.
Standard PCB Lead time
Lead time, at Alcanta PCB refers to the time for PCB fabrication. It's counted from the second day following order payment receipt and file confirmation (holidays and weekends are not included).
Generally speaking, our lead time depends on the PCB design's complexity and your custom requirements. We can manufacture a large quantity of circuit boards within 4-11 working days. If you're in no particular hurry to get printed circuit boards and would like to reduce costs, just choose a more generous lead time. If you need your printed circuit boards as soon as possible, choose a lead time on the shorter end. Please refer to the following table for detailed info. we'll calculate the PCB cost based on your required lead time accordingly.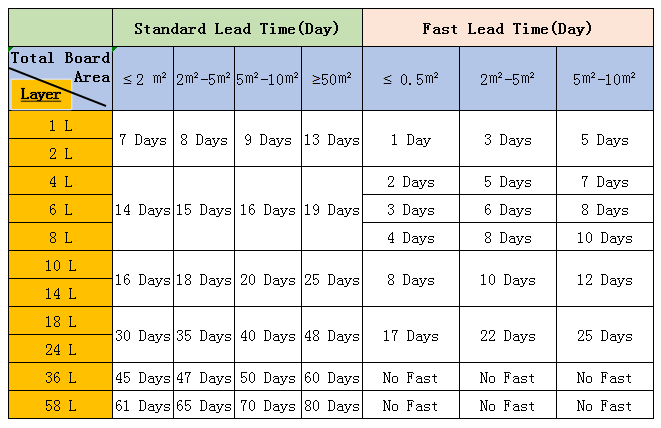 Quick Turn PCB Services
Alcanta PCB offers quick turn PCB prototypes service starts from 1 working days. If you have a PCB emergency and need quick prototype circuit boards. Please cehck with our price group. we will help to finished the pcb on time. Save your time.