rt5880-pcb
Rogers RT5880 Maker.Very low DK,measured at 10GHz.the DK is 2.20±0.02;measured at 10GHz, dielectric loss factor is 0.0009.rt5880-pcb.Alcanta offer RT5880 board, RT/duroid 5880 board, RT6006 board, RT6010 PCB boards with higher quality. fast lead time. If you have any design question. please send email to us. our engineer will help you.
RT/duroid® 5870 and 5880 glass microfi ber reinforced PTFE composites are designed for exacting stripline and mi crostrip circuit applications.
The randomly oriented microfi bers result in exceptional dielectric constant uniformity.
The dielectric constant of RT/duroid 5870 and 5880 laminates is uniform from panel to panel and is constant over a wide frequency range.
Its low dissipation factor extends the usefulness of RT/duroid 5870 and 5880 laminates to Ku-band and above.
RT/duroid 5870 and 5880 laminates are easily cut, sheared and machined to shape. They are resistant to all solvents and reagents, hot or cold, normally used in etching printed circuits or in plating edges and holes.
Normally supplied as a laminate with electrodeposited copper of ½ to 2 ounces/ ft.2 (8 to 70m) or reverse treated EDC on both sides, RT/duroid 5870 and 5880 composites can also be clad with rolled copper foil for more critical electrical applications. Cladding with aluminum, copper or brass plate may also be specifi ed.
When ordering RT/duroid 5870 and 5880 laminates, it is important to specify dielectric thickness, tolerance, rolled, electrodeposited or reverse treated copper foil, and weight of copper foil required.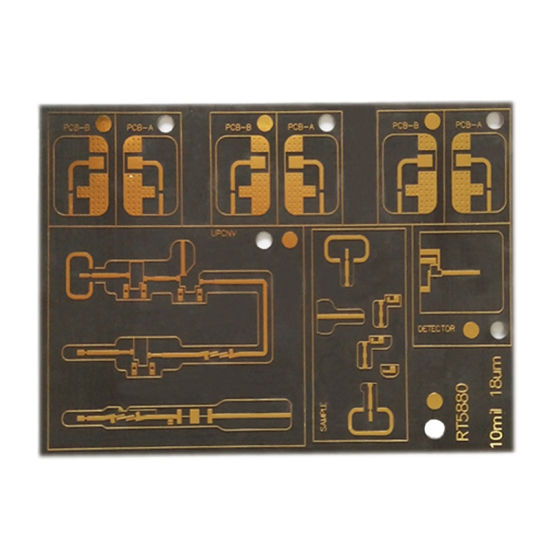 We have procued many RT/duroid 5880 PCB from 2 layer to 20 layers. some RT 5880 PCB are small gap to gap. and some RT 5880 boards was made with Cavity . and some are HDI RT 5880 PCB boards. and we also offer PCB+Component assembly. you can send me the Bom list with the PCB gerber files. our price team will you the total price and lead time. And affer we have finished the blank boards. we will do the PCB Component assembly jobs.
If you have any questions. Such as the materials thickness or materials size. the price and lead time. please send Email to:  info@alcantapcb.com  
Our engineer will get back to you as soon as possible.