is680-pcb
IS680 PCB. Isola PCB Manufacturer. IS680 is suitable for many of today's commercial RF/ microwave printed circuit designs. It features a dielectric constant (Dk) that is stable between -55°C and +125°C up to W-band frequencies. In addition, IS680 offers a very low dissipation factor (Df), making it an extremely cost-effective alternative to PTFE and other commercial microwave laminate materials in double sided applications.
IS680 laminate materials exhibit exceptional electrical properties which are very stable over a broad frequency and temperature range.
Isola High Performance PCB Laminates
Since their founding in 1912, Isola has been the industry leader in developing and manufacturing copper-clad laminate products used to fabricate advanced multilayer printed circuit boards (PCBs). They have an optimal balance between cost and performance when selecting base materials. Key factors microwave and millimeter wave designers must consider when choosing a high-speed RF or microwave laminate include dielectric thickness, dielectric constant and dissipation factor, and maintaining tight tolerance within a batch as well as batch-to-batch.
RF high-frequency designs require extremely precise controls on dielectric constant, line widths, and dielectric thickness. The chart below lists some of the most common Isola laminates.
Product Availability
Standard Material Offering: Laminate
20, 30, 60 mil (0.51, 0.76, 1.5 mm)
Available in full size sheet or panel form
Copper Foil Type
HTE Grade 3
Copper Weight
½ to 2 oz (18 to 70 µm) available
Heavier copper available
Thinner copper foil available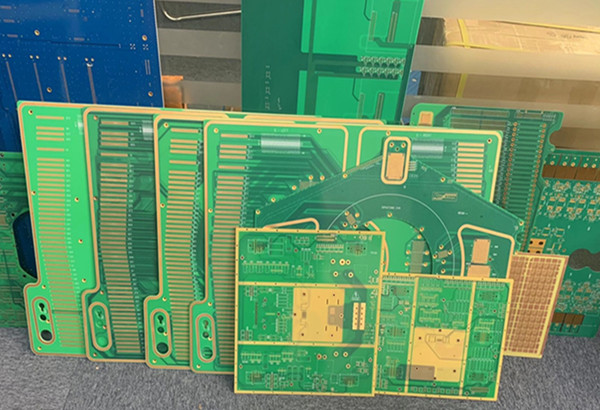 RF/MICROWAVE PCB LAMINATE MATERIAL
When designing PCB circuits at microwave frequencies, the key characteristics that define circuit laminate performance for microwave/RF printed-circuit boards (PCBs) include dielectric constant(Dk), dissipation factor (Df), coefficient of thermal expansion (CTE), thermal coefficient of dielectric constant (TCDk), and thermal conductivity.
The high-frequency material perhaps most familiar to users of PCB laminates is polytetrafluoroethylene (PTFE) which is a synthetic thermoplastic fluoropolymer that has excellent dielectric properties at microwave frequencies. Below is a brief outline of the major material suppliers that we have experience with as every material is processed a bit differently and it is critical to know exactly how the materials will respond to every process.
At our PCB manufacturing facility in Shenzhen, China, we have a significant amount of stock in all of the high-frequency laminates as we have been producing PCBs with these materials for many years. Some of the applications of these PCBs are RF antenna, wi-fi (Carrier-Grade and Licensed Access), IP infrastructure, power amplifiers, diplexers/multiplexers, test and measurement, and many more.
With PCBs made from these products, it is important to have significant experience in producing PCBs with these materials, but also you must have invested in the equipment to properly process these RF PCBs. Experience in engineering and CAM is critical to being able to ensure that your PCBs are built to last as these materials all have very different scaling factors along with the fact that they all behave differently; you are removing the copper during the etching process. Without a proper process for managing registration, lamination layer shirt, and other factors using the proper equipment like X-ray, fabricators will have a difficult time producing the yield that gives the customer confidence.
At ALCANTA, we work with our customers during the design stage as well as investing in the leading-edge equipment every year to ensure that we stay ahead of the needs for RF PCBs.
If you have any questions, please feel free to contact us with info@alcantapcb.com , we will be happy to help you.