antenna-pcb
Antenna PCB Manufacturing. Antenna Rogers RT/duroid 5880 high frequency PCBs. Low dielectric constant (Dk 2.2) . Dissipation factor of .0009 at 10GHz. and Low moisture absorption. The Antenna PCB was made with High Frequency materials.
The Rogers RT/duroid 5880 high frequency boards core materials thickness: the Standard Thickness is 0.005" (0.127mm), 0.010" (0.254mm),0.015" (0.381mm),0.020" (0.508mm),0.031" (0.787mm),0.062" (1.575mm),0.125" (3.175mm).
and the Rogers 5880 PCB core materials standard panel size: 18" X 12" (457 X 305mm),18" X 24" (457 X 610mm). Non-standard sizes are available up to 18" X 48"(457 X 1219 mm). the standard copper thickness are ½ oz. (18μm) and 1 oz. (35μm), Non-Standard Copper Cladding are ¼ oz. (9 μm) electrodeposited copper foil, ½ oz. (18μm), 1 oz. (35μm) and 2 oz. (70μm) reverse treat copper foil, 2 oz. (70μm) electrodeposited and rolled copper foil.
If you need other types Rogers series core materials. please tell me. we will buy them from Rogers company in USA. We have used the Rogers brand series materials. So. please do not worry the base quality.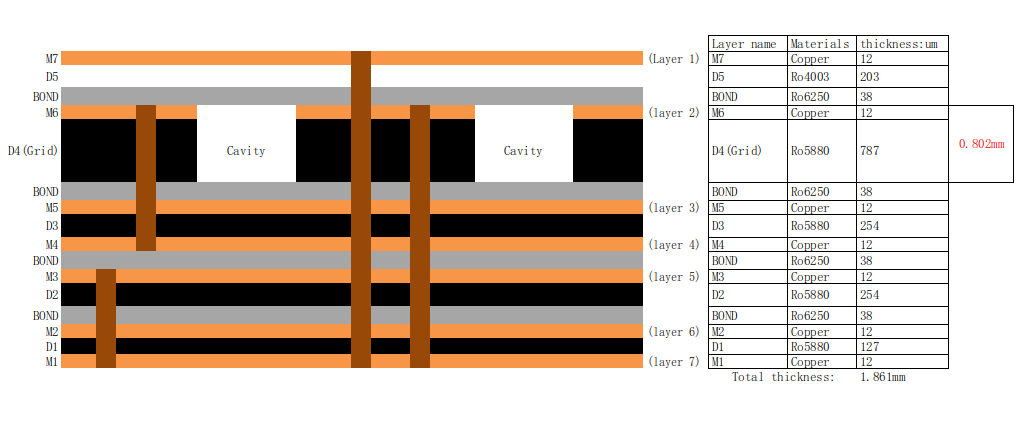 About the PCB design and Production capacity: We can produce the ultrathin Rogers PCBs. the finished boards thickness is about 0.163mm. and we also can produce HDI PCB from 4 layer to 50 layers. in the PCB gerber files design. you can use the 0.1mm(4mil) via holes. we will make them with laser. infact. we can make the smallest via hole size with 0.065mm. when your design space is not enough. you can use this small via hole size. and we can do the pads to pads gap or line to line spacing with 2mil.
Open a Cavity or Buried Cavity with the Antenna boards. We have made many Antenna with Cavities. High quality, Fast shipping time. and more lower cost. When you design this types cavity rinted Circuit Board. if you have any questions. please send email to us. we will help to reply you in 12 hours. It is our pleasure to help you anytime.
If you have any questions, please feel free to contact us with info@alcantapcb.com , we will be happy to help you.