cavities-pcb
Cavities PCB fabrication, Open Cavity PCBs require a depth-controlled cutout to expose inner layers to air for antenna or component assembly.
Multilayer circuit board with Cavities. we have made many Cavities on the blank printed circuit board. High quality, Fast delivery, and more cheaper price. Our PCB company has produced Cavity circuit from 4 layer to 50 layers.
About the Cavity circuits materials. if you only need the PCB with FR4 core materials. we will finish them in quick turn time. e.g: 4 layer to 8 layer cavity boards. we will finished them in 10 to 15 days. from 10 layer to 20 layers cavity boards. we need about 15 to 20 days.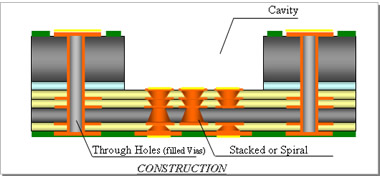 the cavity boards with especial PCB materials. e.g: High Performance circuits materials, Low Loss FR4 circuits materials, High Speed circuits materials, High Frequency circuits materials. the lead time will be a little long. maybe need about 15 to 30 days. before you send us the gerber files. if you have any questions. please check with our engineer team. our email: info@alcantapcb.com or contact with our skype: henrychinasz , thank you.
About the PCB materials. we have many especial circuits materials in our warehouse. some are very expensive. some are cheaper. if you use standard FR4 core to do the cavities boards. the price will be more cheaper. if you use High Speed or High Frequency core. the PCB price will be expensive. materials is not same. so. the price will be not same.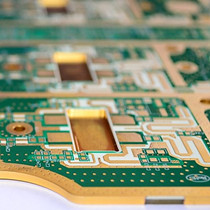 The Cavities PCB Technologies. Yes. we can made the cavity boards with many advanced technologies. Ensample: We can make the Cavity pcb with Buried and Blind Vias. please pay attention to know. in the cavities area. there are some Buried or Blind Vias holes. i mean. the via holes will show out side of the copper in the cavity area.
About The materials dielectrics. if you need. we can make the Cavities pcb with many different dielectrics materials. like: Rogers dielectrics VS FR4 dielectrics, Or, Rogers dielectrics VS Isola dielectrics, Or M7, M4, M6 dielectrics, and other High Performance, Low Loss FR4 dielectrics. Just tell us. what kinds dielectrics do you need pleaes? tell us please. we can produce it. and make good job.
About other Cavity PCB production technology. like: Impedance Control. we can do +/-5%, Backdrilling, Controlled Depth Drill and Rout, Rigid‐Flex & Flexible Circuits, and others. our company has produced many Military PCB products, Aviation PCB, Military communication PCB, Industrial PCB product, and many Products in other fields.
We can produce many kinds Cavities in high layer PCB boards. If you have any questions, please feel free to contact us with info@alcantapcb.com , we will be happy to help you.