pcb-fabrication
High Quality and Low cost PCB Fabrication Services.For all PC board orders, our company experienced engineers will review your quote request and design gerber files to ensure you will receive the best quality PCBs timely with the most competitive price.
Alcanta PCB has successfully completed 10000+ PCB Orders.Trusted by thousands of PCB design and engineering companies.All our fabricated prototype and mass PCBs are electrical tested, qualified to UL standards and met the Printed Circuit Board industry latest standards of IPC class I, class II and class III. most of the PCB made with Class II. some are Class III.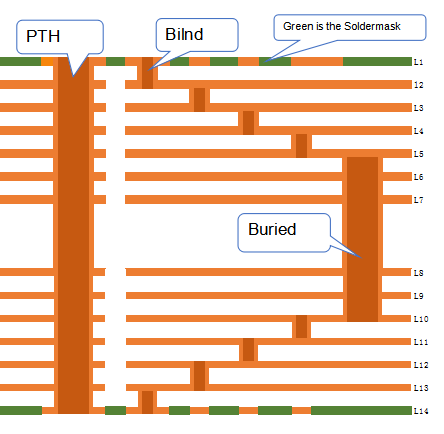 Samples of Printed Circuit Boards We Fabricated: Strictly according IPC 6012 Class II standard process request, We have made the circuit boards from single copper layer PCB to multi-layer layer PCB. and DHI PCB or other specially designed boards. Some are FR4 materials, Rogers materials, Copper materials, Al materials, Flex materials, Panasonic Megtron Series PCB materials,and others.
All PCBs must be passed electrical Flying Probe or Universal Grid test, Automated Optical Inspection (AOI), and experienced technician exam before our QC department releases PCBs to final clean and package to ship to the customer immediately. and we will send you the shipping tracking number at first time.
High Quality PCBs made in China. Alcanta offer FR4 Boards, AL Board, Copper core Boards, Rogers PCB, Rigid-Flex & Flexible Circuits, Buried and Blind Vias PCB, Hybrids & Mixed Dielectrics circuits. Controlled Depth Drill PCB. and There are many other advanced production techniques.
Working gerber checking step. This is very important! when we got the PCB orders. our engineer will check your PCB gerber files at first. than.they will make the working gerber files. In the meantime. if we meet any questions. we will check with you. and send EQ list to you. We won't change your design
For the quick turn time PC Board, 2 layer pcb will be finished in 24 hours. and 4 layers pcb will be finished in 48 hours. 6 layer pcb will be finished in 72 hours. 8 layer to 24 layer pcb will be finished in 4 days to 10 days. about the shipping time. only need 1 days or 2 days.
For standard the PCB lead time. 2 layer boards will be finished in 7 days to 10 days. 4 layer pcb will be finished in 10 to 14 days. 6 layer to 8 layer need about 15 to 20 days.