ro4350b-circuits
Ro4350B Circuit,Ro4350B PCB Supplier, Rogers 4350B PCB fabrication. Dk of 3.48 +/- 0.05, Dissipation factor of 0.0037 at 10 GHz, Fast shipping time. and more cheap price Rogers 4350b PCB Manufacturer.
Rogers RO4350B materials are proprietary woven glass reinforced hydrocarbon/ceramics with electrical performance close to PTFE/woven glass and the manufacturability of epoxy/ glass.
Features
Dk of 3.48 +/- 0.05
Dissipation factor of 0.0037 at 10 GHz
Low Z-axis coefficient of thermal expansion at 32 ppm/°C
Benefits
Processes like FR-4 at lower fabrication cost
Competitively priced
Excellent dimensional stability
RO4350B laminates provide tight control on dielectric constant (Dk) and maintain low loss while utilizing the same processing method as standard epoxy/glass. Available at a fraction of the cost of conventional microwave laminates, RO4350B laminates do not require the special through-hole treatments or handling procedures as PTFE based materials. These materials are UL 94 V-0 rated for active devices and high power RF designs.
RO4003C™ laminates are currently offered in various confi gurations utilizing
both 1080 and 1674 glass fabric styles, with all confi gurations meeting the
same laminate electrical performance specifi cation. Specifi cally designed
as a drop-in replacement for the RO4003C™ material, RO4350B™ laminates
utilize RoHS compliant fl ame-retardant technology for applications requiring
UL 94V-0 certifi cation. These materials conform to the requirements of IPC4103, slash sheet /10 for RO4003C, see note #1 for RO4350B slash sheet determination.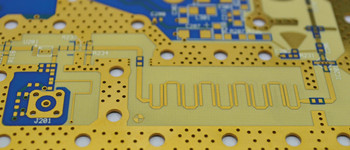 NOTES:
(1) RO4350B 4 mil laminates have a process Dk of 3.33 ± 0.05 and are in conformance with IPC-4103A/240. All other RO4350B laminate thicknesses are /11 and /240 compliant.

(2) The design Dk is an average number from several different tested lots of material and on the most common thickness/s.
(3) RO4350B LoPro® laminates do not share the same UL designation as standard RO4350B laminates. A separate UL qualifi cation may be necessary.
If you have any questions, please feel free to contact us with info@alcantapcb.com , we will be happy to help you any time.