rogers-4350b-pcbs
Rogers-4350b-pcbs. Ro4350b PCB Fabrication. Rogers 4350B Circuit Board manufacturer. We have made Rogers 4350b boards. Ro3003, Ro3006, Ro4360G2, Ro4835 and other rogers base core. They are High quality and More cheaper price.
RO4350B laminates provide tight control on dielectric constant (Dk) and maintain low loss while utilizing the same processing method as standard epoxy/glass. Available at a fraction of the cost of conventional microwave laminates, RO4350B laminates do not require the special through-hole treatments or handling procedures as PTFE based materials. These materials are UL 94 V-0 rated for active devices and high power RF designs.
Features
Dk of 3.48 +/- 0.05
Dissipation factor of 0.0037 at 10 GHz
Low Z-axis coefficient of thermal expansion at 32 ppm/°C
Benefits
Processes like FR-4 at lower fabrication cost
Competitively priced
Excellent dimensional stability
RO4350B™ Laminates
Rogers RO4350B materials are proprietary woven glass reinforced hydrocarbon/ceramics with electrical performance close to PTFE/woven glass and the manufacturability of epoxy/ glass.
RO4350B™ laminates can be routed, punched, or V-scored. Diamond-cut or multi-fl uted chipbreaker router bits are recommended. V-score depth should be <½ of the material thickness or less. Deeper cuts could result in pre-mature breakaway.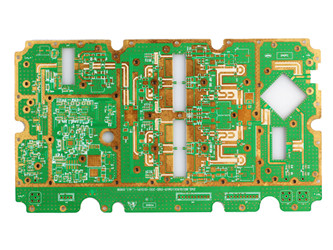 Multi-Layer Bonding: RO4003C, RO4350B and RO4835 laminates are compatible with many thermosetting and thermoplastic adhesive systems. Guidelines for the adhesive system should be consulted for bond cycle parameters.
Drilling Considerations: Standard entry (aluminum or thin pressed phenolic) and exit (pressed phenolic or fiber board) materials can be used when drilling RO4003C, RO4350B and RO4835 cores or bonded assemblies in one-up or multi-up stacks.
RO4350B materials are compatible with a broad range of drilling parameters. However, drilling speeds greater than 500 surface feet per minute (SFM) should be avoided. Chip loads greater than 0.002"/" are recommended for mid-range and large diameter tools while lower chiploads (<0.002"/") are recommended for small (<0.0135") diameter drills. In general, standard geometry drills are preferred over undercut styles as they more effectively evacuate debris from the holes during the drilling process. Hit counts
If you have any design questions. Or boards thickness questions. please check with me. we will help you any time.
Our Contact email: info@alcantapcb.com